Sacramento Walking Sticks Home
The Sacramento Walking Sticks is the Nation's largest AVA affiliated walking club! We started in November 1984 and are a non-profit organization that is run 100% by volunteers. We are associated with:
All of our events:
Are open to everyone - you don't have to be a member to participate.
Are non-competitive - go at your own pace.
Can be done for free!
A low-cost Incentive Program is available.
Be sure to send us your email address so that you get our Walk Alerts! Walk Alerts give you all the information you need to participate in our events like location, times, driving directions, etc. This email list will never be sold or used for non-club purposes and you may unsubscribe at any time. (We don't like spam either.)
If you prefer using regular mail, our address is:
Sacramento Walking Sticks
P.O. Box 277303
Sacramento, CA 95827-7303
Walking With Woody: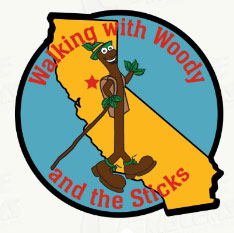 Curious? Check out this new special program sponsored by the Sacramento Walking Sticks by clicking on the image above.
Facebook:
Upcoming Traditional Events:
Ice Cream Walk!
August 10 & 11, 2022

Sacramento's warm summer nights are the perfect opportunity to eat ice cream at its two locally owned ice creameries in the Land Park and Curtis Park neighborhoods: Vic's and Gunther's. If you didn't get enough on the previous night or if you couldn't make it, there is another opportunity on Thursday morning to sample the tasty treats at these creameries. The walk between the two is a lovely shady stroll through upscale neighborhoods with classic 20's and 30's homes. Join the Sacramento Walking Sticks for this annual fun event and bring the family!
View/Print the brochure.
MapQuest Map To Start at Vic's Ice Cream
Newsletter:
View the Spring 2022 Edition here!
Membership Meetings:
Date
Time
Place
Address
July 28, 2022
5:00 pm
Clubhouse at The Bluffs
3900 Riva Ridge Dr, Fair Oaks, CA 95628
You are all invited to come to the 1st Sticks Membership Meeting since COVID locked us down, March 2020. Heidi Foster has offered us the use of the Clubhouse from the Bluffs where she lives and we'll make sure we start/end early enough so no one has to worry about driving in the dark. Plan on coming this Thursday night, July 28th at 5:00 p.m. The address is: 3900 Riva Ridge, Fair Oaks. The Club will be providing pizza and drinks and if you prefer bringing something else to eat, please do so.
If you need volkssporting supplies like event/distance books, Sticks Bucks or a New Walker Packet the Membership Meetings are a great opportunity to purchase them. Do you have pull tabs to turn in from your soda or beer cans? We'll take them and give them to Ronald McDonald House.
(Email feedback about this page.)
Page last updated: 27-July-2022