Sacramento Walking Sticks Home
The Sacramento Walking Sticks is the Nation's largest AVA affiliated walking club! We started in November 1984 and are a non-profit organization that is run 100% by volunteers. We are associated with:
All of our events:
Are open to everyone - you don't have to be a member to participate.
Are non-competitive - go at your own pace.
Can be done for free!
A low-cost Incentive Program is available.
Be sure to send us your email address so that you get our Walk Alerts! Walk Alerts give you all the information you need to participate in our events like location, times, driving directions, etc. This email list will never be sold or used for non-club purposes and you may unsubscribe at any time. (We don't like spam either.)
If you prefer using regular mail, our address is:
Sacramento Walking Sticks
P.O. Box 277303
Sacramento, CA 95827-7303
Walking With Woody: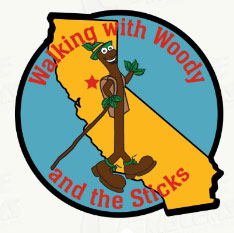 Curious? Check out this new special program sponsored by the Sacramento Walking Sticks by clicking on the image above.
Facebook:
Upcoming Traditional Events:
Due to the Covid-19 pandemic all of our future events for 2021 have been put on hold. Since it is unknown when social distancing restrictions will be lifted, some events will likely be cancelled. We have restarted our group walks with social distancing restrictions.

If you are not already signed up for our email Walk Alerts, please do so to get the latest updates from the club: Sign up for our Walk Alerts!
Newsletter:
View the March 2021 Edition here!
Membership Meetings:
Date
Time
Place
Address
Due to Covid-19 restrictions, no membership meetings are scheculed at this point.
If you need volkssporting supplies like event/distance books, Sticks Bucks or a New Walker Packet the Membership Meetings are a great opportunity to purchase them. Do you have pull tabs to turn in from your soda or beer cans? We'll take them and give them to Ronald McDonald House.
(Email feedback about this page.)
Page last updated: 16-February-2021